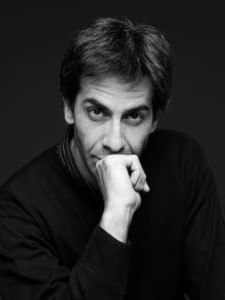 Mi sarebbe piaciuto presentarmi dicendo: "… la prima foto che ho scattato è stato quando, alla tenera età di 7 anni, ho rubato una vecchia Kodak Instamatic di mio padre etc…" ma, invece, non è andata così. Mio padre è stato un operaio tutto "casa, lavoro e sigarette" senza altri sfizi, non aveva nessuna macchina fotografica. E io non pensavo di fare il fotografo. Mi sono trovato in uno studio fotografico di cerimonie solo per guadagnare qualche soldo, chi mi ha conosciuto da ragazzo può  confermarlo. Pensavo di fare altro ma mentre che c'ero ho pensato che imparare qualcosa non sarebbe stato sbagliato, così, per conoscenza ad uso personale.
Dopo alcuni anni avevo avviato altri discorsi ma decisi di fare ogni giorno quello che mi piaceva di più, e allora, pensai, cerchiamo di farlo bene o, almeno, di tendere a migliorare. La voglia di crescere, le  collaborazioni con professionisti del nord e le sperimentazioni personali mi hanno permesso di realizzare ciò che in parte è presente in questo sito.
Grazie per il tempo che mi hai dedicato.
---
I wish I could introduce myself by saying: "The first photo that I took was when I was seven years old with an old Kodak Instamatic that I had stolen from my father."  Unfortunately, this is not the case.  Actually, my Dad worked a regular nine-to-five job.  In a way, he was a kind of a dull guy; he had no vices; hence, he had no camera.  As for me, I never thought of one day being a professional photographer.  I eventually found a job working at an events photography studio, just to make ends meet.  Those who know me can vouch for this.  As I was growing up, I thought I would end up doing something else.  Yet, while I was at it, I thought, "Why not, at least I can learn something, just for my own enjoyment."  A few years went by and I found myself doing different odd jobs.  Nevertheless, I soon realized that I had to do what I liked and well.  And here I am.  I love my job and I won't change it for the world!  I grew and learned as I went along with my career as a photographer.  Meeting and working with people from different backgrounds and experiences, as the professional photographers from northern Italy, enriched my experience, style, outlook on life, and ultimately my portfolio, herein posted online for you to enjoy!  Thank you visiting my page!  Please take your time to explore around and, don't forget, drop me a line or two if you have questions.  I would love hearing from you!
---
Dicono di me
Roberto Bigano (Ottobre 2007)
Ho avuto la fortuna di conoscere Mario solo due anni fa, ma in questo breve lasso di tempo ho imparato ad apprezzare le sue doti umane, tecniche ed organizzative ed è diventato uno dei miei collaboratori più preziosi. Con lui porto avanti i lavori in Sud Italia ed i servizi all'estero, soprattutto per Franco Maria Ricci, il più esigente degli editori. Memorabili ad esempio il servizio al Louvre dove, all'ombra della Gioconda abbiamo "domato" in una sola mattina la bestia nera di chi riproduce quadri, la "Zattera della Medusa" di Gericault, oppure Chateau Chaalis dove siamo riusciti a far risplendere come mai prima gli ori dei retabli trecenteschi di Giotto, oppure il servizio alla Photokina di Colonia. Non di rado Mario prende in mano la regia delle riprese; ad esempio durante un impegnativo servizio per un importante libro sul Santuario di  Arantzazu, edito da FMR per il Ministero della Cultura Basco, il suo occhio attento ci ha donato una delle viste più suggestive ed originali dell'interno. Recentemente abbiamo fotografato gli splendidi Avori Medievali del Museo Diocesano di Salerno. Il lavoro, presentato l'altro giorno a Roma al Ministero per i beni Culturali" ha avuto un eccezionale successo di critica e di pubblico.
I was lucky enough to know (to meet) Mario only two years ago, but during this short peiod I learned how to appreciate his human, technical and organizing gifts, and he has become a very valuable co-worker.
We work together for shooting sessions in South Italy and abroad, especially for Franco Maria Ricci, the most demanding of publishers.I have to mention some unforgettable experiences: the  Louvre where, in the shadow of Mona Lisa, in a single morning, we "tamed" the photographers' pet hate (bugbear) in photographic reproduction of paintings, the "Raft of the Medusa" by Gericault; or Chateau Chaalis where we were able to make Giotto's gold of the fourteenth-century altarpieces shine as never before; or the work at Photokina in Cologne. Mario very often takes the direction of the shooting; for example, during a difficult service for an important book about Arantzazu Shrine, edited by FMR for the Basque Ministry of  Culture, his keen eye gave us one of the most evocative and original interior views.
Recently we have photographed the beautiful medieval ivories of the Diocesan Museum in Salerno.This work, presented some days ago at Cultural Assets Ministry in Rome, has had a great success with the critics and audience.
---
Ho conosciuto Mario in occasione dell'aiuto datomi nel realizzare il calendrio di Monica Bellucci per GQ. Pur avendo un'aria dolce quasi vulnerabile si evidenzia subito in lui una rara determinata sintesi di ricercatezza, funzionalità e una sconfinata disponibilità verso le idee. Il suo gusto visivo caratterizza una personalissima sensibilità fotografica.
I met Mario when he helped me in the production of Monica Bellucci's calendar for GQ. Despite  his sweet  almost vulnerable temper he immediately shows a rare  special  synthesis of refinement, functionality and a great availability  towards the ideas. His visual style marks a very personal photographic sensibility.
---
Sergio Antonio Bolognese – Espansione s.r.l.
Molto spesso rendere in immagini la vision d'impresa non è cosa facile. Con Mario abbiamo perlustrato il mondo della creatività nella consulenza di direzione e la sua capacità di "estrarre" dalle nostre idee e dal nostro lavoro, immagini potentemente rappresentative ed evocative, ci ha sinceramente stupiti. Altra cosa che mi sorprende da sempre di quest'uomo è il mix di modestia, serietà e competenza: sono doti difficili da incrociare in uno stesso professionista. Forse è da questa personalità così splendidamente complessa che nascono le sue foto ed i suoi successi professionali. A Mario Oliva va la nostra fraterna gratitudine perchè sa regalarci sempre l'immagine migliore: quella di un grande professionista dell'immagine.
Very often reproducing the vision of enterprise into images is not easy. Mario and we have patrolled the world of creativity in consulting management and his abilility to "extract" powerfully representative  and evocative images from our ideas and our work has truly amazed us. Another amazing thing about this man is his mix of modesty, seriousness and competence: very difficult gifts to find all together in the same professional. Maybe his photos and his professional successes come out from a so wonderfully complex personality.We give our affectionate gratitude to Mario Oliva as he can always give us the best image: that one of a great professional.